Click on a selection below to see information relevant to your scenario:
I am here in Australia
CBHS International Health is committed to providing you with the necessary information to help you make the right choices during the COVID-19 health emergency.
Across the cooler months, you may experience flu-like symptoms. Can you tell if you have a cold, flu or COVID-19? Here is the chart showing the different symptoms.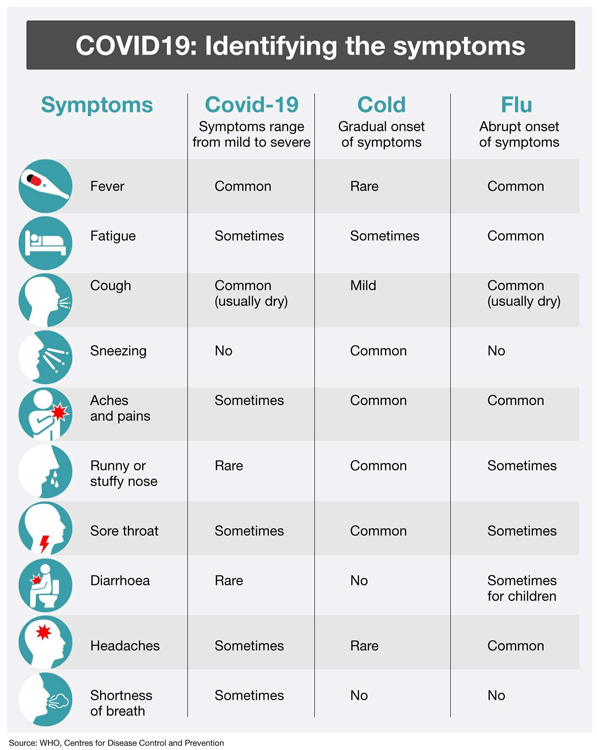 FAQ's
FAQs correct as of 18 October 2021. As this is a rapidly evolving situation, the details below may change or be updated. Please refer back to this page regularly.

What should I do if I suspect I have COVID-19?

If you suspect you have COVID-19, you can contact the Australian Government's Coronavirus Health Information Line on 1800 020 080 to discuss your symptoms first. Or contact our virtual doctors* who will advise you if you need to get tested**.

The Virtual Doctors service is open to everyone. It is only covered as a benefit if you hold OSHC or Overseas Worker Mid Hospital and Medical and Medical Overseas Worker Top Hospital and Medical.

Please do not go to the hospital unless it is on the advice of your doctor. Contact the hospital first before you arrive if you believe you need to attend a hospital for treatment.




Am I covered if I contract COVID-19 and need to go to hospital for treatment?

If you think you have symptoms for COVID-19 a doctor will determine if you should be tested. If it is confirmed that you have COVID-19 it is important that you follow the doctor's advice. If the doctor recommends hospitalisation you will be covered for the admission and treatment as per your policy.

Will I incur out-of-pocket expenses if I need to get tested for COVID-19?

If you require a COVID-19 test, a private clinic or GP may charge you out-of-pocket costs. Please do not submit as a claim to CBHS International. It is NOT COVERED under your policy as it's a free service from the Australian Government.

Instead, make your way to a public COVID-19 clinic where there is no cost. COVID-19 testing is available to everyone within Australia for free (even if you're not a citizen or permanent resident). To find a free testing clinic near you, call the National Coronavirus Helpline on 1800 020 080. For translating and interpreting services call 131 450. More information here.

My visa expires soon and I was due to return home but I am now unable to return home – what do I do?

If your visa is expiring soon, refer to Australia Government Department of Home Affairs to view your options. You must have a valid visa to stay in Australia. It is unlawful to stay in Australia without a valid visa.

Let us know of your plans change so we can extend your health policy to ensure you are covered in the event you need it.

I have purchased OVHC and OSHC and still overseas

We understand that there is a lot of uncertainty caused by the COVID-19 outbreak which has impacted immigration, travel, quarantine and commencement dates at educational institutions. Please refer to the frequently asked questions below regarding your recently purchased health cover policy.

I am unable to travel to Australia due to COVID-19 travel restrictions. What can I do about my studies?

Reach out to your education provider to discuss whether you can defer your studies or complete the learning through distance education (online learning).


The Australian Government has compiled a list of universities and several education providers and their response to COVID-19.

For further information about changes to your student visa visit the Department of Home Affairs.

If you have deferred your studies or need to change the start date of your policy, who can you contact to amend the commence date?

Depending on where you have purchased your OVHC or OSHC will determine who you should contact.
If you purchased your OSHC or OVHC through an agent, please contact them directly to discuss updating your policy start and end date.
If you purchased your OSHC for OVHC from our website, you can change the dates of your policy by contacting us on the details below.
OSHC : oshc@cbhscorp.com.au | (+61) 2 8604 3537
OVHC : ovhc@cbhscorp.com.au | (+61) 2 8604 3537